| | |
| --- | --- |
| Posted by Ziad Hamoui on June 10, 2014 at 10:50 AM | |
Tema, 09 June 2014: The Chartered Institute of Logistics and Transport (CILT) - Tema Port branch held another of its social events, the "Shippers Corner", at the Royal Nick Hotel last Friday.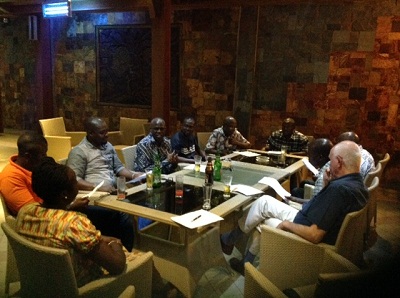 The event began at 6:15pm with a brief welcome note from the branch president, Mr. Kumi Adjei-Sam, followed by brief introductions from members present.
Shippers corners were started by CILT - Tema as a venue to mix business and leisure, by allowing networking opportunities between members of the institute and industry professionals, similarly to the early days of the Baltic Exchange and other professional bodies around the world.
The participants were briefed on the current year's program, namely the latest CPD that was held in April and other activities, as well as the branch's upcoming events; namely, the "Logistics Excellence Awards" that is scheduled for October 2014 (details to be announced later).
Participants also had the opportunity to give feedback and suggestions for the way forward towards making CILT a more successful organization on the local and national scenes, leading to a productive and highly interactive session. The meeting was brought to a close at 8:15pm
Comments are disabled.