Tema, 03 April 14: The Chartered Institute of Logistics and Transport (CILT) in Ghana – Tema Port branch held its first Continuing Professional Development (CPD) workshop of the year, at the GPHA Tower, Tema. The workshop was held under under the theme "Causes and Impact of Demurrage and Rent Payment on the Cost of Doing Business in the Ports".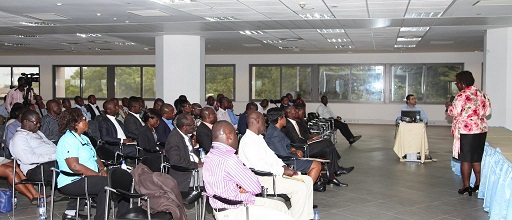 The event was chaired by the General Manager of Business Development of Ghana Ports and Harbours Authority (GPHA), Mrs. Alice Torkornu and featured four presentations from representatives of the maritime industry;
- Mr. Emmanuel Arku, Branch Manager – Tema, Ghana Shippers Authority
- Capt. William Amanhyia, Executive Secretary, Ghana Institute of Freight Forwarders
- Mrs. Nana Esi Soderberg, Senior Marketing & Public Relations Officer, Ghana Ports and Harbours Authority
- Mrs. Perpetua Osei-Bonsu, Executive Secretary, Ship Owners and Agents Association of Ghana
Following opening remarks by the event chairman, the various representatives discussed issues affecting demurrage, each from his/her own perspective. Later on, the floor was opened for an engaging Q&A session, while CILT local branch representatives moderated the dialogue within a civilized productive framework.
Several issues were highlighted, including the need of the industry stakeholders to communicate developments and facilitate access to information, the benefits of an increase in the professionalization of the industry players and the need to clarify certain ambiguities concerning the details associated with demurrage calculation. The three hour workshop was wrapped with the issuance of certificates of accomplishment to the workshop attendants, as well as remarks from the chairman and the institute representative, to the overall satisfaction of the audience, marking up another successful event on CILT Tema's list of accomplishments.
Update 1: presentations are now available online at our documents section, which can be accessed by following this link. It is for registered members only, but registration is free and takes only 2mns!