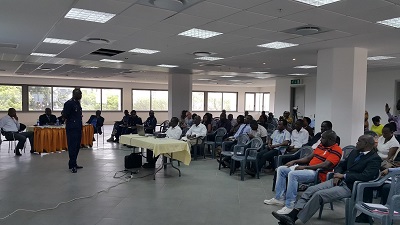 The Chartered Institute of Logistics and Transport (CILT) in Ghana, through its Tema section, organized a Continuing Professional Development (CPD) program on National Single Window Implementation in Ghana, on October 1st, 2015.

As of September 1st, 2015, Ghana Revenue Authority migrated its Customs clearance procedure into a new Single Window Platform, re-assuming ownership of former DIC functions and offering the potential for reduction in trade cost and delay in the country.
It was with this background that CILT Ghana, through its Tema Section, have organized its CPD workshop, in order to brief the participants on the experiences from the first month of operation of the new Single Window, from the perspective of some of the major stakeholders of the industry.
This half-day workshop, which was held under the theme "IMPLEMENTATION OF THE SINGLE WINDOW CONCEPT BY THE CUSTOMS DIVISION OF THE GHANA REVENUE AUTHORITY - IMPLICATIONS FOR THE PORT CLEARANCE PROCESS", took place at the GPHA Towers in Tema.
It was chaired by the immediate past president of CILT Ghana, Mr. Cletus Kuzagbe and featured presentations from the Ghana Revenue Authority, Ghana Shippers Authority and the Ghana Institute of Freight-Forwarders.
In his presentation, the Executive Secretary of GIFF, Capt. William Amenhya, asserted that, while it is still too early to assess implementation of Single Window in Ghana, only a month into the exercise, the concept is a good one and can deliver significant results in reducing time and cost of clearance. However, he also pointed out to the importance of effective communication among the various stakeholders in order to ensure the success of the initiative.
In her contribution on behalf of the Ghana Shippers Authority, the Deputy Chief Executive Officer, Mrs. Sylvia Owu, stressed the need for predictability and transparency into the clearance procedure, as well as the importance of reducing the need to be physically present around the harbour premises during the process. Further sensitization of shippers is thus required in order to reduce congestion, which delays processes unnecessarily.
The Deputy Commissioner of Customs in charge of Operations, Mr. Frederick Gavor, briefed the audience into the background of the migration towards a new Single Window Scheme in Ghana; Customs controls, he asserted, have failed to prevent the revenue leakage through various means, while volumes kept increasing and staffing levels were unable to match the required productivity demand. Hence, he concluded, the need for automation as a necessary tool to improve productivity.
The onus of declaration, stressed Mr. Gavor, who is also considered the project owner for National Single Window in Ghana, rests on the declarant, who has the option to benefit from expedited procedure in case of truthful declaration and satisfactory documentation, against harsh retribution for dishonesty or delayed procedure for unsatisfactory documentation.
Later on, the participants had the opportunity to engage in an open dialogue around the presentations and the theme, followed by the handout of certificates at the close of the event.
Update 1: Presentations are now available. To view, visit the documents section on the CILT Tema Website at http://www.cilt-tema.org/apps/documents/