| | |
| --- | --- |
| Posted by Ziad Hamoui on June 21, 2014 at 5:15 AM | |

The Port Development Partnership (PDP) network, in collaboration with the Embassy of the Kingdom of the Netherlands in Accra and the Ghana Ports and Harbours Authority (GPHA), have held a seminar on sustainable port development at Tema, as an initiative for sharing and transferring the expertise and available knowledge of the world-class Dutch ports and logistics with the Ghanaian port industry.
The seminar, which took place Friday, 21 June 2014, at Tema Port, targets management officials that have the opportunity to make their views known and participate in valuable discussions on the topics at hand. The seminar focuses on Port Infrastructure and Port Operations. The event was well-attended by key local and international stakeholders and featured a signing ceremony for the establishment of a Port Training Institute, to be set up in the Port of Tema by GPHA and STC BV, in collaboration with UNESCO-IHE and Deltares, also PDP-members.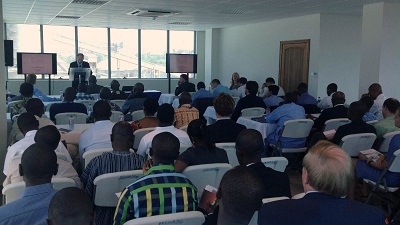 One of the core objectives of the PDP, which is made up of seventeen Dutch organizations representing global supply chain expertise, is to contribute to human capital development in Africa. It was to this end that the PDP has launched the Knowledge Transfer Program in September 2013, together with their Ghanaian counterparts, to exchange knowledge and lessons learned in the port sector in the Netherlands and around the world.
Comments are disabled.